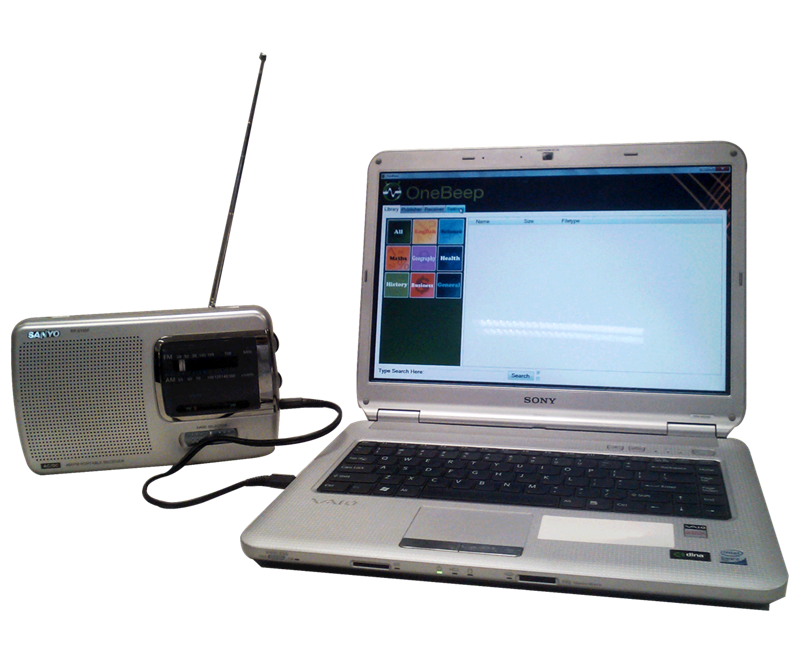 All over the developing world the 'one laptop per child' initiative is providing the world's poorest kids with laptops to help with their education. It's a scheme with one flaw: a lot of those remote areas have no internet, so the laptops become little better than bricks – that you plug in.
In 2010 a group of Auckland students led by Vinny Lohan came up with a nifty solution: transmit digital material to remote communities by ordinary FM radio. Radio waves can travel huge distances and every village has radios. The technology, called OneBeep, works like this: Anybody with the OneBeep software can convert a file like a pdf or an ebook into a normal mp3 sound file. Yes, a book can become a song! To a computer it's all just 1s and 0s, but the mp3 file can be broadcast by an FM radio station. You can tell everyone, 'Maths book being broadcast on 96.3FM at 6pm on Wednesday.' Then the villagers just plug their radio headphone jacks into their laptop microphone jacks and the OneBeep software in their laptop converts the mp3 'song' file from the broadcast back into an ebook and bingo, remote internet!
What followed was a story of huge success and then great disappointment. In 2010 the OneBeep team took their idea to Microsoft's Imagine Cup competition in Poland and out of 400,000 students from 190 countries, placed third. In 2011 they won Auckland University's Spark Challenge and in 2012 entered the Icehouse business incubator. But it soon became clear that to commercialise the idea worldwide was going to be expensive and difficult to do from New Zealand. Further funds became elusive and the team drifted apart.
Vinny Lohan moved to India and at time of writing was determined to launch a Kickstarter campaign to raise the $200,000 needed to release the free, open-source software allowing communities to unlock the power of OneBeep. 'I won't let it die,' says Lohan.