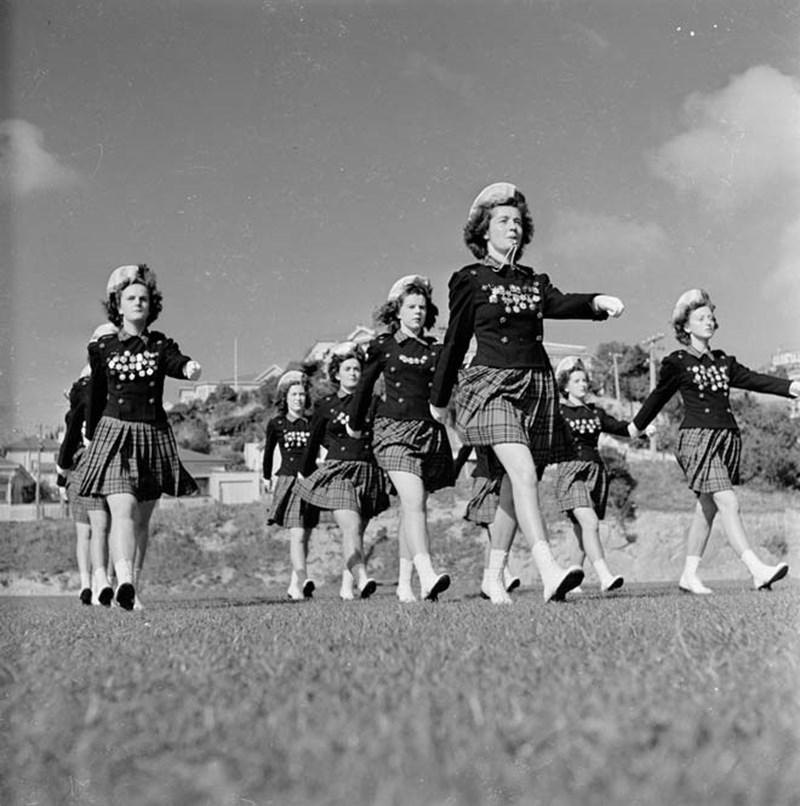 This first record of Marching Girls is in the official history of the visit of the Duke and Duchess of Cornwall and York in 1901. During the Dunedin celebrations, about 500 girls marched past as a celebration of 'girls' drill'.
By the late '20s, Marching was established in Otago as a sport. Teams of nine girls were organised and drilled - originally mainly by military men. The marching was based on the Army Manual of Elementary Drill, but instead of men calling out orders, the girls took their cues from music. By 1933 business house teams from factories, hospitals and the armed forces were competing in championships and in 1945 a group of businessmen in Wanganui met to form a national body to organise competitions between clubs. Because it was cheap, needed no special equipment or playing fields, the sport developed rapidly. All over the country young women drilled and drilled, were outfitted into uniforms and competed against rival teams. Teams are judged in competition by deducting points for the most slight and subtle errors: too high an arm swing here, slight misalignment of a head there.
Marching associations were grateful to pipe and brass bands for giving them music to compete to, and the bands were grateful to the marchers for giving them a reason to play marches that nobody else really wanted to hear.